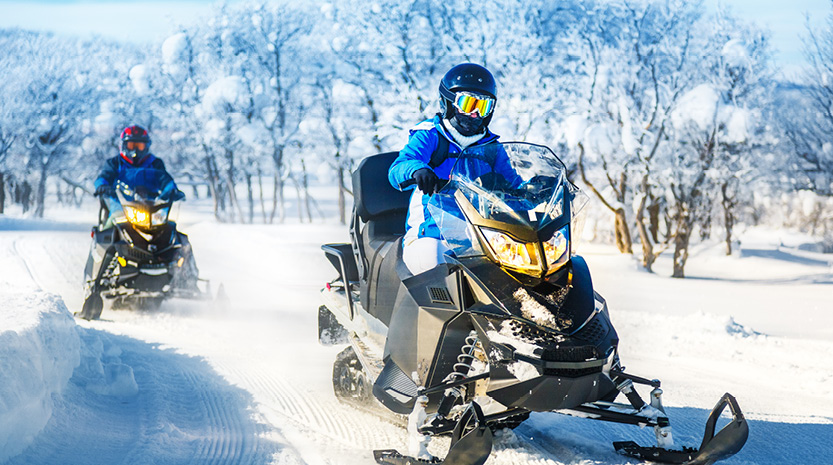 The holidays may be over, but snowmobile enthusiasts everywhere are still singing "Let it Snow." After all, for them, the season is just starting.
With more than 230,000 miles of snowmobile trails in the U.S. and Canada combined, millions of riders are ready to go—and we're ready to help them go safely.
Before you head off, gear up with these 15 snowmobile safety tips:
Take a snowmobile safety course. Learn the rules of the road and tips for the trails.
Follow the service schedule. Before riding, make sure it's ready. Remember to stay on top of regular service and repairs.
Wait for snow before you go. Don't risk ruining the vegetation.
Have a helmet. Find one that meets the U.S. Department of Transportation's standards, and be sure to wear it every time you ride.
Dress the part. Gear up with all of your winter wear, like warm gloves, waterproof boots and a windproof jacket.
Watch the weather. To use your snowmobile, you need snow and cold... just not too much of either one. Be aware of looming weather conditions, like storms.
Depart with a smartphone. With cellular service, you can call out and get your coordinates, just in case you need to.
Set a speed limit. The safest speed to travel? 40 MPH.
Keep your lights on. See and be seen.
Scout your route. Wherever you go, watch where you're riding. Keep an eye out for obstacles like tree stumps, fences and low-hanging wires.
Stay off the streets. Stick to the safest spot: a marked trail.
Avoid riding on frozen lakes and rivers. It may look frozen now, but it may not be solid enough to support you all the way across. Our golden rule? If you don't know, don't go.
Don't drink and ride. Not only does alcohol slow your reaction time and alter your perception, it also makes you more vulnerable to hypothermia.
Use the buddy system. Take someone along for the ride, or at least tell someone where you'll be riding and when.
Insure your snowmobile. If something happened to your snowmobile, your insurance could pay to repair or replace it.
Please call one of our agents to discuss your individual situation.